When Jesus heard him, he stopped. Luke 18:40 NLT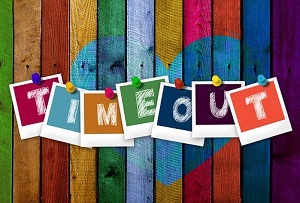 Busy working upstairs in my office, I was surprised—and a little annoyed—when my husband insisted I come downstairs. Now!
I put my work aside and went to see what was so urgent. What I found was a young woman on my front porch with a soaking-wet blanket wrapped around her. Barefoot and with little clothes on, she shivered … both from fear and the cold. She had surprised by husband by appearing at the basement door where he worked on a project.
The woman had run away from an abusive husband (or maybe boyfriend), darted barefoot through the woods behind our house (in the rain), and slept underneath a utility trailer in our backyard (piled with sharp pieces of metal and wood). Pitiful, confused, and hardly able to look us in the eye, she needed help—not to mention food and warm clothes.
My day was planned, my schedule full. But God apparently had another plan. What He sent me that day was a divine interruption.
Jesus experienced many interruptions as He went about His business. But He gladly stopped for each one to show the love of God to those who were hurting.
In our fast-paced world, we are often too busy to help someone in need. Sometimes, we resent the interruption, but we should always be ready to stop and show God's love.
Chuck Swindoll says:
The One who said, "Be still and know that I am God," must hurt when He witnesses our frantic, compulsive, agitated motions. In place of a quiet, responsive spirit, we offer Him an inner washing machine—churning with anxiety, activity, resentment, and impatience.
Admittedly, I wasn't happy at first when called away from my tight schedule. But as it turned out, my husband and I had the opportunity to feed and clothe someone in desperate need. We've never seen or heard from the woman again, and probably won't, but my prayers still go with her. Hopefully, the seed that was planted will produce a harvest in her life. What started as an irritation ended up a blessing.
What about you? Are you too busy for a divine interruption?
(Photo courtesy of pixabay.)
(For more devotions, visit Christian Devotions.)
---
---