Do you not know? Have you not heard? The Everlasting God, the Lord, the Creator of the ends of the earth does not become weary or tired. His understanding is inscrutable. Isaiah 40:28 NASB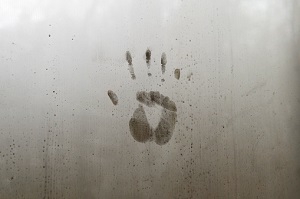 About two feet from the bottom of my glass door, a little hand's outline marred the surface.
I smiled. It reminded me of the little fellow to whom it belonged. I would have reacted differently twenty-five years ago with my own children. Irritation would have ruled as I thought about the effort and time required to clean the door…again. I would not have thought the handprint was so cute.
But Grandma has mellowed. I decided to leave it for a while and enjoy the memories it brought. Yes, I will get around to cleaning it, and he will visit again and leave proof of his presence…again.
My thoughts turn to God as I consider the door. I wonder if He ever gets tired of our messes. Do we wear Him out? After countless admonitions for my grandson to keep his hands off the glass, the messes keep appearing. Likewise, God gives us directions and warnings, and we continue to make our own messes. If the love I feel for my grandson lets me clean the mess without getting rid of the messer, just think of the great love the Father has as He cleans all our messes. Thankfully, He doesn't grow weary.
Although I am not irritated at the mess left on my door, I know the prints would become less cute if they happened daily. And I do get weary. As much as I love my grandson, cleaning is not my favorite thing. I know as he grows, he will be less inclined to leave his handprints on the glass. He will learn the proper way to use the door.
I hope to grow more into the image of my Savior daily, leaving less messes for Him to clean. I hope you will too. Don't wear God out with your messes.
(Photo courtesy of pixabay.)
(For more devotions, visit Christian Devotions.)
---
---