Get rid of all bitterness, rage and anger, brawling and slander, along with every form of malice. Be kind and compassionate to one another, forgiving each other, just as in Christ God forgave you. Ephesians 4:31-32 NIV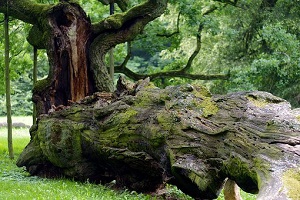 The massive oak tree lay strewn across the lawn of the stately house.
The night before, a vicious windstorm brought down what looked like a healthy tree. However, the inside told another story. For years, the stricken and wounded tree had kept its deadly secret hidden from human eyes. Internally, it was rotting away, eaten by disease or some other slow-moving virulent insect force. Now, its inner secret was exposed for all to see. The tree seemed to interrogate me, so I stopped to take pictures.
I wondered if my life was like that tree. I may look strong on the outside, but on the inside I could be hollow and eaten away. What eats away at my insides? Have I let bitterness over a small slight get to me? Am I carrying around childhood memories of school or home that I have never confronted? Sure, I've been blessed with a great family, friends, and a wonderful career, yet here I am. Have I truly forgiven, or do tentacles of unforgiveness still decay on the inside, burrowed deeply within my emotional core?
I must check to make sure my insides are not rotting away. If someone sent a camera to my emotional core, I don't want them to be shocked at what is happening there.
God wants our heart, emotions, and mind to be free of the decay of any form of bitterness or malice.
Ask God to help you to be as healthy internally as you appear on the outside.
(Photo courtesy of pixabay.)
(For more devotions, visit Christian Devotions.)
---
---