Whoever dwells in the shelter of the Most High will rest in the shadow of the Almighty, I will say of the Lord, "He is my refuge and my fortress, my God, in whom I trust." Psalm 91:1-2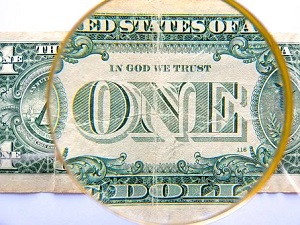 I used to stop at a diner early every morning on my way to work.
I don't recall how good the coffee was, but I vividly remember a sign hanging over their cash register: In God We Trust … All Others Pay Cash. With many of us wondering whom we can trust, I was encouraged by a story I read.
During the darkest hours of the Civil War, the Reverend Mark Watkinson wrote to Treasury Secretary, Salmon Chase, with a unique request. In view of the national crisis, he suggested an inscription be placed on our money, acknowledging our urgent dependence on God.
Chase also sent a personal letter to the Philadelphia mint: Dear Sir, No nation can be strong except in the strength of God, or safe except in His defense. The trust of our people in God should be declared on our national coins.
In our time of national struggle, with many establishments only offering coffee and food to go, we might wonder whom we can trust. Maybe the answer is still on the back of every dollar bill. We can trust God. He will always be our refuge and fortress whenever we choose to live close enough to rest in His shadow.
When you wonder whom you can trust, remember you can always trust God.
(Photo courtesy of pixabay.)
(For more devotions, visit Christian Devotions.)
---
---