If we confess our sins, he is faithful and just and will forgive us our sins and purify us from all unrighteousness. 1 John 1:9 NIV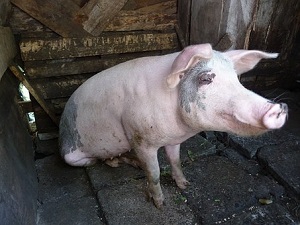 The human capacity for blame and resentment can sink us into an unholy mire of misery.
The expression, "Pigs don't know pigs stink," illustrates how history can repeat itself when we don't learn from our past mistakes. If we lived in a sty, we might not learn anything either. When focusing on the faults of others, we may boldly go where no pig has gone before.
Jesus summed up all the commands in two: love God wholeheartedly and love one another as ourselves. That kind of love includes forgiveness.
Grace leads us to the Ten Commandments, which God provided not to enslave us to rules and regulations but to show us how to live abundant lives filled with joy. When we carry resentment, we block that flow of joy from heaven.
We must forgive those who have sinned against us because harboring resentment is like wallowing in a pigsty. The sty may be a fine place for hogs, but it's an unhealthy place for us. Pigs don't mind living in a slime pit because it's all they know. Christians are not meant to immerse themselves in past grievances while complaining of the stench.
History can be a great teacher if we allow it. When we look back, it should be for our edification so we can learn better strategies, stop reliving past mistakes, and avoid treacherous pitfalls.
We can stop dwelling on the pain in our past that others caused by asking God for the resolve and mercy to release us from the pigpen of unforgiveness. We can make peace with others.
We need to forget the past and press on toward the goal of righteousness. God has a plan for us that doesn't include bathing in simmering sludge, but does promise us hope for the future.
Are you wallowing in historical muck? Reach out to Jesus, confess your resentment, and repent. He is faithful and just to forgive, to wash away your impurities, and to restore relationships.
(Photo courtesy of pixabay.)
(For more devotions, visit Christian Devotions.)
---
---