He makes me to lie down in green pastures; He leads me beside the still waters. He restores my soul. Psalm 23:2-3a NKJV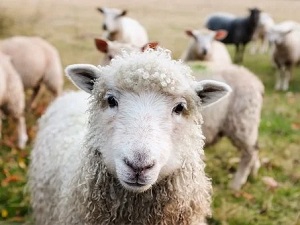 The scene is idyllic.
Peaceful little sheep resting in green pastures by still waters. A shepherd with his staff nearby. An image that could hang on the wall of any Sunday school classroom.
Imagine a different scene. Two or three sheep try to sneak out of the pasture. Their little sheep brains are certain a better pasture lies ahead. The shepherd chases after the rebellious sheep and brings them back to the pasture. As time passes, more and more sheep become restless and try to leave. In their little sheep brains, they are convinced the shepherd has made a mistake. They have been in this pasture too long. But the wise shepherd brings the wandering sheep back into the fold.
Psalm 23 says the Good Shepherd leads us to green pastures to restore our souls. The Shepherd is wiser than we are. He knows when we need to stop, which pasture is best, and how long we should stay there.
The year 2020 brought an unexpected halt to life as normal. COVID caused devastation and pain. Although the virus itself is not a good thing, I wonder if the Good Shepherd has prepared a green pasture for us in the middle of the Coronavirus. In His wisdom, does He see souls that needs restoration?
Along with the sheep that are attempting to escape are a few others that rest peacefully by the still waters. They gaze lovingly at the Shepherd's face and enjoy life in the pasture.
Two kinds of sheep graze in the pasture: the restless rebellious sheep and the trusting contented sheep. I wish I could say I spent time during COVID peacefully gazing at the face of the Shepherd. All too often, my little sheep brain believed that this life disruption had dragged on too long.
As my heart began to stray, the wise and loving Shepherd brought me back. And I am thankful. When I stop rebelling and look at His loving face, I know of no other place I would rather be.
Ask God to give you the grace to trust Him even when you don't understand.
(Photo courtesy of pixabay.)
(For more devotions, visit Christian Devotions.)
---
---