"This is my Son, whom I have chosen; listen to him." After the voice had spoken, they found that Jesus was alone. Luke 9:35-36 NIV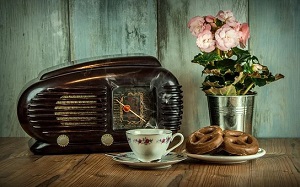 My wife loves her clunky, old-fashioned radio with its round dial that tunes in AM stations.
To listen to a program without static, she extends the antennae with her left hand, then stands on one foot while stretching her arm in the air—as if she were an antennae extension. Carefully, she turns the knob with her right hand until she reaches a station with clarity.
Like that radio, listening to God's voice requires tuning in. We must dial in our hearts with sensitivity to hear God's voice speaking to our soul.
Three disciples accompanied Jesus up the mountain for His time of prayer when the unimaginable happened. Jesus' face and clothing transformed with glory, and Moses and Elijah appeared and talked with Him. While the stunned disciples decided what to do, a cloud enveloped them, and God told them what to do.
In my words, God said, "Don't do anything, just listen!" How often are we talking or busying ourselves when God's manifest presence passes by? God speaks to us all the time, but too often, distractions, self-focus, and the self-talk in our minds render us deaf to His voice. We miss the loving affirmations of the Father because we don't slow down long enough to hear Him.
Cultivating the inner awareness of God's Word and the Spirit is central to the Christian life. Living tuned in to God's voice gives our life depth, clarity, and authority. One way to hear God's prompting is to commit to read His Word. As we do, we can pause and listen for a phrase, word, or feeling that stirs our heart. When we hear it, we can linger there for several minutes—emptying our minds and discovering God's voice.
Imagine what Jesus could do in our lives by the authority of His Spirit and His Word. What He could heal. What He might rebuke. Or what He would command to go. Negativity, addiction, doubt, lust, murmuring, pride.
God has wired us with senses to hear His inspiration. We can listen for His song, watch for His glory, and see that He is good. He created us to know His voice. And we can when we turn our dial to His station.
Tune out the noise, listen, and sit quietly. God will speak subtle words.
(Photo courtesy of pixabay.)
(For more devotions, visit Christian Devotions.)
---
---