Holy Father, keep them in your name, which you have given me, that they may be one, even as we are one. John 17:11b ESV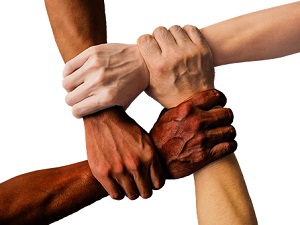 A tourist strolled with friends through a charming village in France.
As she walked, she glimpsed a chubby baby in his mother's arms. What a cute little one, she thought. She gave him a friendly smile and received a big toothless grin in return. There they were. She was black and American; he was white and French. Yet they experienced a warm and wonderful connection that superseded race and nationality.
The shocking killings of several African Americans in the spring of 2020 sparked renewed calls for racial equality, equity, and justice in the United States and around the globe. Many efforts are underway in government, businesses, education, and elsewhere to generate a deeper understanding of racism—along with ways to eradicate it. Ultimately, enduring change requires a spiritual solution.
All of humanity descends from one person, and everyone is created in the image and likeness of God. Hating and mistreating someone because of their race dishonors God.
Christians can play a pivotal role in the journey to justice, equality, and mutual respect when we model the unity and love Jesus instructed us to display. The night before His crucifixion, Jesus prayed for His disciples, as well as for all who would believe in Him through their word. Sadly, the church still has a way to go before we see oneness flourishing.
What would happen if every Christian tried to build bridges? Learning about both the historical context and present-day realities of racism would be a good place to start. Additionally, connecting with coworkers, neighbors, and fellow believers from different races can demystify differences and generate meaningful dialogue. Doing so will require getting out of our comfort zones. But any momentary discomfort will honor the One who made us from one and to be one.
Honor God by loving all people.
(Photo courtesy of pixabay.)
(For more devotions, visit Christian Devotions.)
---
---