But the fruit of the Spirit is love, joy, peace, forbearance, kindness, goodness, faithfulness. Galatians 5:22 NIV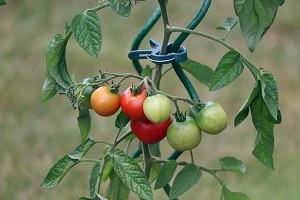 It stood in all its glory.
Sporting crusty brown leaves and broken branches, hanging by threads of green protoplasm and limp leaves, and teetering because of its top-heavy configuration, my cherry tomato plant had to be bolstered by a plastic framework and a stick. I bought the plant at the beginning of summer and placed it on my deck. Nothing else could fit in the garden. Zucchini leaves and rhubarb would either overshadow or smother it.
Much to my chagrin, the plant's location was perilous. The wind blew the helpless vegetable off the deck enumerable times. The plant then toppled two feet to the ground below, landing on its side and expelling soil from its plastic pot.
I tried to protect the plant by leaning it against our barbeque, but I was often unaware of the wind's velocity. When I checked on it, I found I was too late. It had already become a victim.
Every morning, I water my various plants to keep them viable. While watering the tomato plant one day, I was amazed that this wounded entity still produced vast quantities of tomatoes. As I gazed at it, I realized the tomato plant was me.
I am almost eighty and a past victim of lymphoma, aches and pains in my hips and knees, and a sleeping disorder. Like the plant, I'm broken in many ways but can still produce fruit—the fruit of the Spirit. Love, joy, peace, patience, kindness, goodness, and faithfulness. Although infirmed and damaged, I can also nurture others with God's fruit.
So, there you have it. The tomato plant and I are kindred spirits. Damaged, yet still struggling to fulfill the task given to me by the Creator. I love that plant, and God loves us both.
What fruit are you still producing for God?
(Photo courtesy of pixabay.)
(For more devotions, visit Christian Devotions.)
---
---