Set your mind on the things above, not on the things that are on the earth. Colossians 3:2 NASB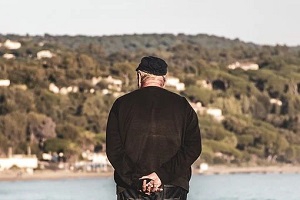 The beach was nearly deserted as I walked briskly on my regular route along the cliffs of the shoreline.
The breaking dawn cast its shades of soft pink on the rolling waves. Godwits, plovers, and sanderlings ignored my presence as they feverishly scurried about, probing for prey hidden in the wet sand.
I was absorbed in the wonder of God's creation, praising Him for the sweet communion we shared, when a house under construction along the cliffs caught my attention. The residences that overlooked the shore and captured pristine views from La Jolla to San Clemente engrossed me.
"Oh, Lord," I prayed, "How I would love to live on Pacific Avenue right at the water's edge. You know how much I love the water." I continued my walk, gazing up and imagining how it would be to live in one of those houses.
Some time passed before I looked back toward the sea. Wow! What had I done? I had abandoned all thoughts of praising God for what I had for thoughts of what I wanted. All it had taken was a simple turn of the head. When I focused on God's creation, I thought about Him and all He had given me. My heart was filled with gratitude and peace. But when I turned my head and looked away from Him, I found an urgent, restless longing for the things I wanted.
How often do we allow ourselves to get caught up in the things we want? Through prayer, we can turn toward God and His abiding presence in our lives and turn away from a longing for empty things.
Keep your eyes on Jesus and the things above, not on things of this world.
(Photo courtesy of pixabay.)
(For more devotions, visit Christian Devotions.)
---
---