"Put your sword back in its place," said Jesus to him, "for all who draw the sword will die by the sword." Mathew 26:52 NIV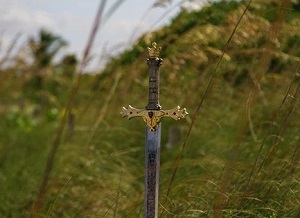 While in college, I burned the notebook of a classmate.
This classmate was doing better than I was. Because of what I did, this student couldn't attend classes for two months. He also missed several exams.
Two years later, I went on a summer vacation. During my vacation, my entire village was flooded. My house and everything in it were destroyed by water and mud. I never wanted to lose my school stuff, and I immediately remembered what I had done to my classmate. The experience was painful for me. I regretted my actions so much that I cried bitterly and asked the Lord to forgive me.
Jesus teaches how we should work on our motives and temper. He calls us to stay away from any vindictive thought or action, no matter the offense. Jesus was ready to die for all sorts of offenses and for the sins of the world.
Many situations challenge us to act. The moment we think of a sword, we never see or think of its immediate consequences. We can "draw a sword" in anger or for retaliation. When we do, we become a terrifying object in the eyes of people around us. A sword has different forms and meaning, such as any dangerous and harmful object. But drawing it shows our desire not to cooperate as God wants us to. The sword can also be a gentle tool or object that we wield with bad intentions.
We need not take revenge because all has been paid for with Jesus' precious blood. When you're tempted to draw a sword, trust God instead.
(Photo courtesy of pixabay.)
(For more devotions, visit Christian Devotions.)
---
---