Come to me, all you who are weary and burdened, and I will give you rest. Matthew 11:28 NIV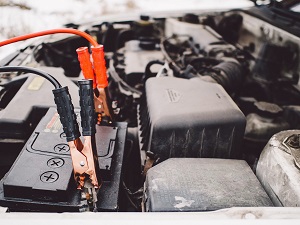 Click-click, click-click. Nothing.
One morning after Bible study, my car wouldn't start. Navigating the mega-church halls, I asked a passing school teacher where the nearest phone was. She directed me to the school office. But when I arrived, something told me to turn around and go to the church office at the other end of the complex. Quite a hike.
I called a mechanic at my car's dealership. A lady in the church office overheard my conversation about my dilemma. She contacted someone in the church's facilities department and asked him to check my car before I called a tow truck.
Soon, two men lifted my car's hood and jiggled the battery cable. I turned the key, and the car started. One recommended a local service station to complete needed repairs, saying the repair should only cost a few dollars.
I became lost and drove in circles, looking for the suggested auto mechanic. Frustrated, I cried out, "God, I don't dare turn this car off before it is fixed. What should I do?"
Suddenly, I thought of the local auto repair I used for all my car's maintenance. Why didn't I think of them first? I knew why. God wanted to give me a jewel…to reveal His presence and power in my day-to-day distracted life.
My mechanic welcomed me with open arms and fixed the battery cable in two minutes at no charge. I thanked God for leading me to the church office worker who pointed me in the right direction. She may never know how God used her.
We can lay every frustration and concern at Jesus' feet, asking Him to let us be a blessing to others in need.
Ask God to give you a desire to help others along life's way.
(Photo courtesy of pixabay.)
(For more devotions, visit Christian Devotions.)
---
---