Do not be conformed to this world, but be transformed by the renewal of your mind, that by testing you may discern what is the will of God, what is good and acceptable and perfect. Romans 12:2 ESV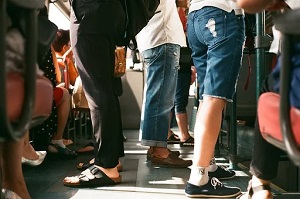 We were in another country, getting ready to board a bus to a different city.
We had crisscrossed the bus station to find the right bus. The weather was rainy and miserable, so we were glad to board the bus. I was sure we were in the right place. I pulled out my tickets to show to the conductor, confident of his approving smile to board.
But when I handed him the tickets, his smile turned to a remonstrating glance. "Of course, you need to go to the next bus," he said.
At a loss for words, I realized we had almost gotten on the wrong bus. How many times in my life have I made what I thought was the right decision only to find out it was wrong? During those times, it was more than confusion. A wrong mindset led me to the choice. In fact, my whole way of thinking needed transformation.
Paul noted a similar problem with his thinking. He realized one could be sincere and be sincerely wrong. He encouraged the Roman believers to transform their thinking.
Transformed thinking only occurs when we allow God's Word to alter our perspective on life in general, as well as with specific questions we face. The Bible becomes a help desk, telling us where to go.
Since my mistake at the bus station, I have memorized parts of the Bible that address specific problems of mine. I realize the only way to correct wrong thinking is to meditate on Scripture. God's Word has rescued me from bad decisions many times.
I finally got to the right destination, thanks to the help of someone who knew more than I did. God's help will always lead us in the right direction.
Stop relying on your own wisdom. Be willing to ask for God's.
(Photo courtesy of pixabay.)
(For more devotions, visit Christian Devotions.)
---
---