Come to Me, all of you who are weary and carry heavy burdens, and I will give you rest. Matthew 11:28 NLT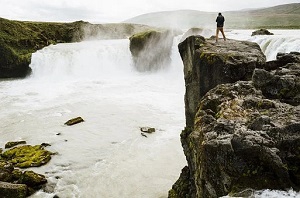 Midmorning dawned before I dragged myself out of bed and dressed.
I had been depressed for too long. I slipped into the little red Pontiac and headed toward the mountains. Fall hung in the air. The trees displayed their brilliant colors of red, yellow, and orange. I parked next to the creek that wound its way through the maze of color and settled on a large rock lodged along the stream. I don't know how long I sat there in the comforting sunshine—breathing in the vibrant smells of the season, listening to the sounds of the rushing water, and basking in the consoling nature that ministered to my tired soul and weary body.
I prayed for God to lift the feeling of hopelessness I had been immersed in for so long. "I surrender all the circumstances that have brought me to this place, Lord. I seek Your grace, most Merciful Father, to release these desperate feelings that have taken over."
Slowly, peace moved quietly through me. I recognized it. The peace that had eluded me since I had begun to do things my own way…trying to fix everything I felt was wrong with my life. I'd left God out of the circumstances. Now with complete confidence, I let go and gave it to Him.
As I drove home, I knew something was different. I was different. Jesus said we find rest in Him. In the world, we will have tribulation, but He has overcome the world. How could I have known it would take giving up to Jesus instead of the usual giving in to the world?
God led me to the stream and to His gift of refreshing water. The future looked as elusive as it had when I drove to the mountains. But I was no longer afraid of it. By His grace, my life has blossomed into something I could not have imagined.
Don't try to fix things on your own. Take them to God and find rest.
(Photo courtesy of pixabay.)
(For more devotions, visit Christian Devotions.)
---
---