The thief comes only to steal and kill and destroy; I have come that they may have life, and have it to the full. John 10:10 NIV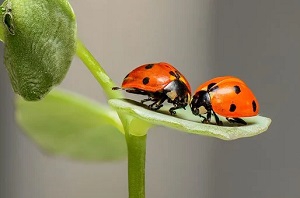 As a kid, I loved Rolly Pollies.
Rolly Pollies are little dark grey bugs that roll up in an armor-like, BB-sized ball when you touch them. But as a grown-up with a garden, I have discovered these little things are destructive. They pick off tender plants one by one, converging on them in the early dawn hours like a pack of ravenous wolves on the last hunt of the night. The lens of childhood are gone, and I now see these critters' true colors. They are a persistent pest that comes to steal, kill, and destroy.
Sin is a lot like Rolly Pollies. Jesus warns us that the thief—Satan—only has one agenda: to steal, kill, and destroy. And sometimes it's the little sins … the ones that aren't so visible … that cause the most damage. Pride, gossip, and lying may not be as high profile as murder, stealing, or pornography, but they can overrun our lives and cost a tremendous toll.
While I may never win the battle with the Rolly Pollies, Jesus has already won the war against sin and will help us fight each battle. Sin brings death, but Jesus came that we may have life. When we spot a Rolly Polly of sin, we can turn to God, the Master Gardener, and ask for help. We can agree with Him about the problem, confess the sin, repent, and then choose to follow His ways.
Rolly Pollies and sin have another thing in common: they both keep returning, at least for awhile. We must be diligent and repeat the above steps as often as necessary.
May your garden and your life be fruitful. And watch out for Rolly Pollies of all kinds.
(Photo courtesy of pixabay.)
(For more devotions, visit Christian Devotions.)
---
---