As Jesus was sitting on the Mount of Olives, the disciples came to him privately. "Tell us," they said, "when will this happen, and what will be the sign of your coming and of the end of the age?" Matthew 24:3 NIV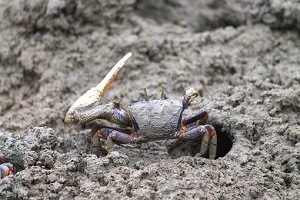 The fiddler crab scooted past me, its big dominant claw high in the air. A sign to other fiddlers that it was just passing through—no harm intended or trouble wanted.
The crab joined hundreds of its fellow fiddler crabs in an exodus off the beach and toward the relative safety of the swamps that lay several hundred yards behind the barrier dunes. The crab knew, without any connection to the internet or satellite television, that a hurricane was coming. Perhaps it was the beginning of a subtle drop in barometric pressure that would continue until the hurricane eye was overhead. Maybe it was the change in the rhythm of the breakers coming ashore … the heartbeat of the beach. Or it could have been the sudden disappearance of the soaring seagulls with their harsh cry, along with the accompanying absence of the sandpipers dashing in and out of the surf.

It was time for me to leave as well. My small brown Pinto station wagon was loaded with the keepsakes from our family oceanfront cottage. The knickknacks Mom didn't want to leave to the vagaries of wind and storm surge. I said goodbye to the cottage and Mr. Crab and headed inland.

Whatever sign that propelled the small crab and his kin inland, the rest of life along the beach followed suit. Even as the ominous dark clouds appeared on the southeastern horizon to embrace the setting sun, the beach emptied of the wildlife that called it home. They knew.

God's Word is full of hints, suggestions, warnings, and scenarios that point to what we call collectively the "end times." Jesus Himself told us, "So also, when you see all these things, you know that He is near, right at the door" (Matt. 24:33 NKJ).

I don't need the Weather Channel's Jim Cantore to tell me a hurricane is coming. The beach speaks to those who listen, and so does God's Word and Spirit. And yes, I think they speak of a gathering storm.

But Jesus also said not to be afraid. To be prepared. To rest in His peace. No matter the signs or how much the next few months may rock our little boat, the peace of Jesus rides with us. The same Jesus who commanded the storm to "Peace! Be still!"

Rest in God's peace. "Yes, I am coming soon." Amen. Come, Lord Jesus (Rev. 22:20 ESV).
(Photo courtesy of pixabay.)
(For more devotions, visit Christian Devotions.)
---
---