Be perfect, therefore, as your heavenly Father is perfect. Matthew 5:48 NIV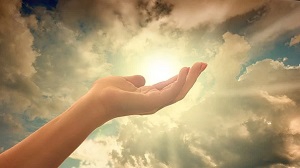 When a friend asked me about a prayer labyrinth, I did some research.
A prayer labyrinth is a spiral path used for prayer and meditation, meant to draw us closer to God. Anything we do that puts our focus on God and draws us nearer to Him spiritually is a good thing, right?
But how can this draw us closer to God? Walking to the center of a labyrinth is a means to an end. Supposedly, when we get to the center, we reunite with God in some manner. Then, on the way out, we pray for God's direction. Although the labyrinth design was derived from pagan practices, anything that realigns us with God's heart and purposes is good.
For me, sitting in solitude on a rock beside a rushing creek in the mountains, surrounded by evergreens while breathing in fresh air, allows me to slough off the filth of the world and seek God in a special way. For others, it might be sitting in a church or walking to a favorite place. Whatever causes us to seek first the kingdom of God in quiet meditation is our labyrinth.
Each of us has an innate desire for holiness. We were created perfectly to be in union with God. Sin broke that connection, but God wrote into our DNA a desire for holiness…a longing to be set apart. The problem with sin is, it clouds our view of perfection and the desire for holiness.
We live with an ongoing internal battle between the sin that pulls us away from God and the holiness which is the magnet to God's heart. But can we be perfect as Jesus instructed? I don't believe this is possible as long as we are wearing human skin with its sin nature.
Seeking holiness is a goal we should strive for. It doesn't have much appeal in this present world, full of forbidden pleasures. However, when we seek the heart of Christ, we will discover far more joy than anything else this world of dark forces offers.
Find your own prayer labyrinth. Ask God to remind you of your first love and to give you a desire to be perfect even as He is perfect.
(Photo courtesy of pixabay.)
(For more devotions, visit Christian Devotions.)
---
---