Therefore, if anyone is in Christ, he is a new creature; the old things passed away; behold, new things have come. 2 Corinthian 5:17 NASB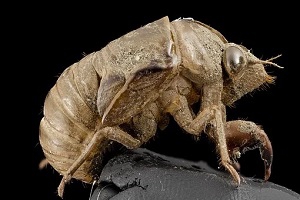 "What's that?" my three-year-old grandson asked as he pointed at a cicada shell attached to the bricks.
I stooped. "Oh, that's a cicada coming out of his shell. See the split on the top? He'll push through that hole and leave the shell behind. He starts out living underground, but when the time is right, he will come up and shed his old shell. Then he'll fly up into the trees and sing."
"Why's he singing? What's he saying?"
I laughed and ruffled his hair. "Listen. Do you hear that?"
The air hummed with the sound of the cicadas in the warm sunshine. My grandson's face lit up as he heard the song. "He's singing because he's happy to be on the outside instead of in the dark and out of that old shell. He's probably thanking God for making him new and giving him wings to soar."
I thought about my own emergence. God took me out of the darkness and exposed me to the Son. He brought me out of my shell and birthed a new me. One with a new heart, future, and perspective. One in which I can sing.
What about you? Have you been released from the old shell holding you captive? Are you a new creature in Christ, soaring up high and singing?
(Photo courtesy of pixabay.)
(For more devotions, visit Christian Devotions.)
---
---