Therefore do not throw away your confidence, which has a great reward . . . But we are not of those who shrink back to destruction, but of those who have faith to the preserving of the soul. Hebrews 10:35, 39 NASB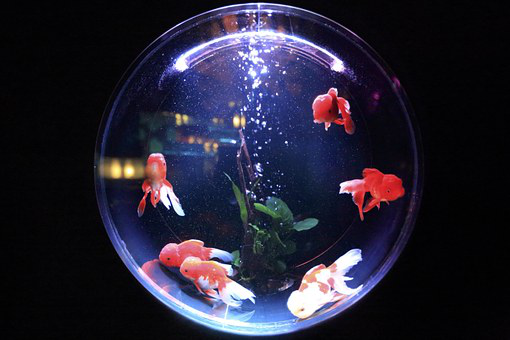 It felt good.
Finally, I had some time to look through my computer and do a thorough clean up. Items that were no longer needed went to the recycle bin, then off into cyberspace.
Looking through my saved photos and images, I was arrested by an image of a fishbowl full of little fish. Next to it was a larger bowl with only clear water. One fish was leaping from the crowded bowl into the clear fresh water of the larger bowl.
Many thoughts flashed through my mind. Thoughts of time to break out from the crowd. Time to look for bigger opportunities. Time to seek clear fresh water of the Holy Spirit. Time to be brave and trust God to lead me to the right place.
Sometimes we are so engrossed in where we are, we become locked in place, filling up valuable space where others might grow. We become inactive, surrounded by the influence that has grown cold towards the things of God.
Recognizing the challenge to take action, I moved when God said move—taking a leap towards a brighter future and trusting God all the way. God did not come with a safety net, scoop me up, and lift me into the new role. I had to take a step of faith. Now, I'm swimming free in a new situation.
Perhaps the place you have been has become so comfortable that you can no longer move. Maybe it's been a long time since you took a leap of faith to new horizons. Change whatever God is asking you to change so you can move where He is calling you to go.
Step forward in faith and trust God.
(Photo courtesy of pixabay.)
(For more devotions, visit Christian Devotions.)
---
---