When Jesus heard him, he stopped and said, "Tell him to come here." So they called the blind man. "Cheer up," they said. "Come on, he's calling you!" Mark 10:49 NLT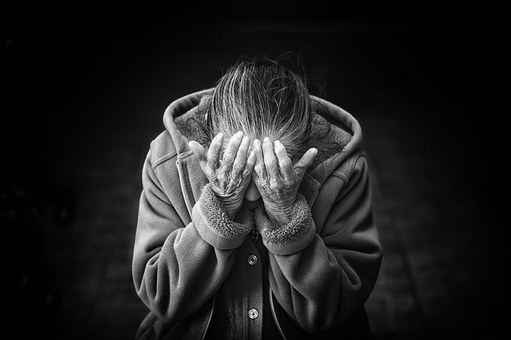 Desperation cannot be silenced.
When we are desperate, no situation or person can stop us from seeking relief. Not a crowd, like the one that tried to crowd out the woman who had an issue of blood and was trying to get to Jesus (Mark 5). Not a priest, like the one who accused Hannah of being drunk when she was praying for God to give her a child (1 Samuel 1).
Desperate means "sad, having deep despair, having little or no hope; done with all your strength with little hope of succeeding on our own." Realizing we cannot do something on our own is what leads us to the reward of desperation.
To be desperate for God is to be in a place of little or no personal strength so that we come to rely on God's strength. Paul said when he was weak that God was strong. We have the tendency to deal with stuff on our own as long as we can without asking for help, thinking "we got this." But we don't. We are dropping it all because of our stubborn need to be self-sufficient.
Despite those who told him not to bother Jesus, Bartimaeus cried out to Him. David, one of the strongest warriors, cried out desperately to God. He understood his deliverance came from God. Desperation caused Hannah to give her child back to the Lord, the child she was desperate for. Jesus found complete surrender in His desperate plea, "not My will but Yours."
Desperation causes us to be persistent and relentless in our pursuit of relief. But surrender comes when we finally understand we are created to need God. Surrendering to God's will—regardless of the price—brings the relief we are looking for—and that surrender brings the Father's heart running to our rescue.
No one experiences the reward of desperation until the cry of desperation creates a place of total surrender, bringing the reward of the Lord's pleasure.
If you're desperate, you are in good company. Cry out to God in complete surrender.
(Photo courtesy of pixabay.)
(For more devotions, visit Christian Devotions.)
---
---