It is for freedom that Christ set us free. Stand firm, then, and do not let yourselves be burdened again by a yoke of slavery. Galatians 5:1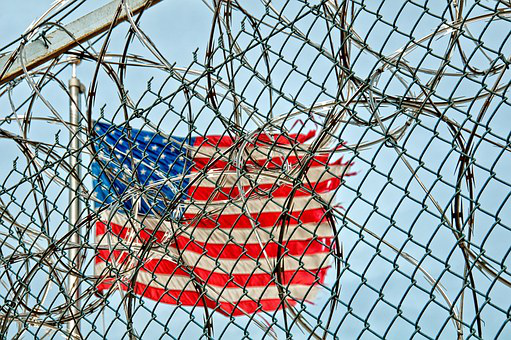 Let Him Say So.

Twenty-seven-hundred and ninety-nine days. That's how long I had been on this same three acres of chain-link encircled Florida soil. Seven years, eight months, and thirteen long, mind-numbing, aching, lonely, and occasionally terrifying days.

Finally, by the grace of God, I reached the end. The last sunrise I would have to see reflected through coils of concertina razor wire. My few possessions had been packed for days. Most everything that had been of value inside would have no meaning outside the fence, and so I had passed them on—as they had been passed to me.

Collected over the better part of a decade, these simple items made life in this hell slightly more bearable. A twenty-two-ounce insulated mug, a stadium cup, and a pair of clip-on sunglasses. Meaningless items that were invaluable inside that constant chain-link fence that had for so long marked the boundaries of my world.

The morning stretched on. It felt like an eternity before I finally heard my name called to report to the front gate. Taking my cardboard box of remaining belongings, I reported as instructed and then went through another excruciating hour of signing one bureaucratic form after another.

At last, the time came for me to rid myself of the prison uniform I had worn for so many years. I was handed a package from home—Levi jeans and a polo shirt. For the last time, I peeled off my prison uniform.

Changing clothes felt as if I were shedding a skin. Years of tension and stress seemed to wash away. I was a new person. No longer Inmate #269493. I was once again Kevin Eudean Spencer, human being.

And then it was time. With a final instruction from the corrections officer processing me out and a cynical "good luck," the steel door swung open, and I stepped into a glorious Florida spring. It was April 14, 1994, and my mom and dad were waiting—having come all the way from North Carolina to take me home. I fell into their arms, fighting tears. I was free.

Someday, I'll feel that way again. Having been freed by the blood of Christ, I'll step out of the prison of this world into new clothes and a new eternal, heavenly life. And there to greet me, I expect, will be my mom and dad.
Let Her Say So.
I had "nothing left to lose," as a songwriter once described freedom.

When the door opened and I walked into the ice-cold darkness of a winter's night, I had nothing but jail-issued scrubs. I was in an unfamiliar town; no one was waiting to pick me up. I didn't care. I would have crawled under a shrub and frozen rather than stay another minute in a cell. I was free. The kind of freedom I understood. It was tangible. It could be bought, fought for, taken. But that night, it was all I had.

I chased after my kind of freedom for years—crossing a multitude of lines. My freedom was elusive but necessary—or so I thought. I didn't realize every step I took only added another link in the chain, pulling me further into an abyss of dejection and indifference. I became cold, bitter, and angry. After my final arrest and incarceration, the freedom I knew became only a memory of a good idea I once had.

During my days in isolation, I despairingly reached out for anything resembling freedom. And in a time of desperation, I met Christ. There were no white light moments of transcendence or blink-of-an-eye epiphanies in which I suddenly realized true freedom. That kind of Christ-liberation took a long time. I read words like forgiven, pardoned, and free in the Bible, but there were no judges, lawyers, or jury members offering to go back to my jail cell for me.

My new faith collided with reality on a daily basis. Still, I believed and accepted God's freedom because I had no hope for anything else. Even today, behind all of my Christian beliefs, there is a reality I can't quite ignore. I still have untamed emotions and wild dreams of the freedom I once imagined. I'm not always sure how to be real about that, while at the same time honoring the God I love. Like crafting a beautifully structured poem when I can't seem to get the meter right in every verse.
I'm not perfect, but the freedom Christ has given us does not require perfection. He simply wants us to be free from the bonds of our sins.

The freedom Christ gives is the only freedom worth losing everything for. Experience Christ's freedom today.
(Photo courtesy of pixabay.)
(For more devotions, visit Christian Devotions.)
---
---