For you were once darkness, but now you are light in the Lord. Walk as children of light. Ephesians 5:8 NKJV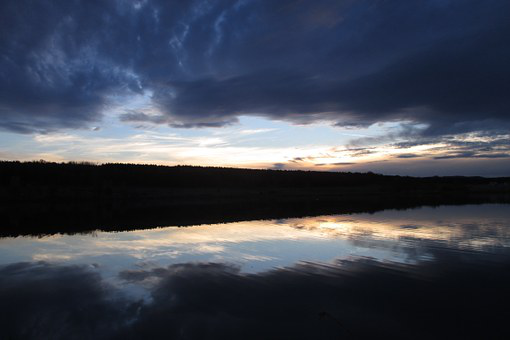 I awoke to a conflicting yet beautiful morning sunrise.
Walking outside to see the skyline in its full expanse, instead of the photo view I had from my couch, I stood in awe. Dark, ominous clouds hung in the sky like threatening bullies. At the same time, thin slivers of blue sky—like streaks of contrast on an artist's canvas—scattered among the darkened rain clouds, trying to push them away. To the left, my eye caught a glimpse of the sun, slowly rising to break through the tall trees and bring the bright hope of sunshine.
I continued staring while I sipped my first cup of coffee. Choices abounded in my mind. Would I focus on the large threatening clouds or on the thin slivers of blue sky pushing through the darkness? Or would I choose to focus on the hope of sunshine?
God speaks in many unexpected ways. The conflict in the skies remind me life can often be like that skyline picture. The dark, ominous clouds remind me of the issues we face in life that try to keep us in despair, depression, sickness, finances, and family issues.
The slivers and streaks of blue sky remind me of the presence of the Holy Spirit. He offers me glimpses of hope and strength in the midst of difficult times. His ability to push away the dark clouds of life encourages me.
The sunshine—hunkered down in the tall green trees, preparing to rise and break through—reminds me of Jesus' words to shine as "lights in the world." His light overcomes whatever darkness I face. Choosing to focus on the light of God's Word renews my strength.
Every day, choices abound in our lives—physical and spiritual. The morning skyline reminded me that in the midst of looming darkness, we get to choose. What we choose affects our attitudes and reactions throughout the day.
God's Word says we are reflections of Him, and He always walks in the Light. With His help, you can too.
(Photo courtes of pixabay.)
(For more devotions, visit Christian Devotions.)
---
---