And God raised us up with Christ and seated us with him in the heavenly realms in Christ Jesus. Ephesians 2:6 NIV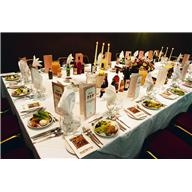 The elaborate dining hall was filled to maximum capacity. The night's event―the hottest ticket
in town―had been sold out for months. Those fortunate enough to obtain a reservation came
dressed in their finest, their thoughts swirling with anticipation. Waves of delightful conversation and laughter rose from each table as tuxedoed waiters served superb delicacies.
Much of the dinner conversation centered upon the highly-acclaimed speaker and the anticipated message to follow. As the evening unfolded, the clamor of voices was replaced by the thunderous applause that erupted as everyone stood to their feet while the distinguished guest made his way to the podium. The applause continued long past the speaker's comfort. Finally, with humility, he said, "Thank you. Please. Please be seated."
His request was followed by the scraping of chair legs across the polished floor as those in attendance positioned themselves so as to have an unobstructed view of the speaker. The clatter of silverware and dishes subsided as the waiters cleared the final items from each table. Event organizers collapsed in their seats, thankful for an opportunity to finally sit down.
A hush settled over the crowd; the guest of honor opened his mouth to speak. All that followed was surreal. No one could have anticipated what came next. The speaker's eyes fixed on someone to his left; the eyes of the crowd followed. Who was this one who remained standing? Why hadn't he followed suit by taking his seat with the others? What could he possibly have to say for himself? Why, who would be so bold as to remain standing after the speaker had requested everyone take their seats?
Unheard-of scenario, you say. Think again. Perhaps even you've remained standing after you were asked to be seated. I know I have―in fact, more than once. Many times, I carry on with what I consider urgent while my Lord beckons to me: "Please, be seated."
There is nothing I find more important than time at the table with the King of Kings and Lord of Lords, Creator of the universe and of all mankind―my Abba Father. I have missed much due to my stubborn resistance to take my seat in His presence. He has reserved a chair for me at His table and anticipates my arrival. He beckons us to join Him. Will I be there? Will you?
Savor time at the table with the Father. Stop ordering meals to go. He has a seat of honor reserved for you. Be seated.
(Photo courtesy of office.microsoft.com.)
( For more devotions visit us at www.christiandevotions.us )
---
---