You, my brothers and sisters, were called to be free. But do not use your freedom to indulge the flesh; rather, serve one another humbly in love. Galatians 5:13 NIV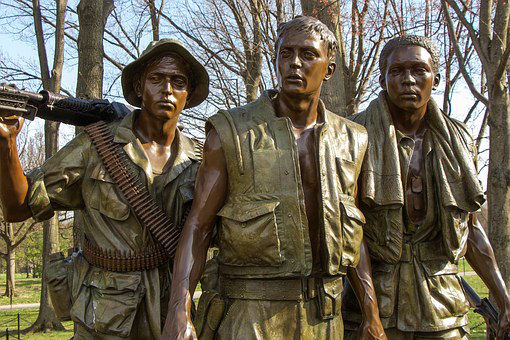 It's hard to understand. Hard to imagine. Hard to figure why, when there is a land of plenty, wealth, and freedom, that we work so hard to botch it up.
Independence Day is personal to me. I can hardly watch as the color guard in the parade passes by, decked out in full dress uniforms and carrying the American flag. A flag that holds the blood of hundreds of thousands of men and women who fought willingly for the freedom it represents. A flag that carries the blood of my own father, wounded twice in World War II.
Why then does a nation who has lost so much to gain even more, stand in such chaos. Disrespect is rampant. Hate bubbles from every pore of men. Our bodies have become sinful pleasures over godly temples. We have so much good. Why the massive rhetoric?
Paul did his best to convey to the Galatians that their calling was higher than their fleshly indulgences. Their sins of the flesh exceeded terrible: sexual immorality, impurity and debauchery; idolatry and witchcraft, hatred, discord, jealousy, fits of rage, selfish ambition, dissensions, factions, and envy.
Sound familiar? But Paul wanted the Galatians to experience true freedom. Freedom from their sin and the things that tempted their hearts. He encouraged them to let go of the evil and love one another . . . love their neighbor just as they loved themselves.
Freedom comes in assorted facets, from personal sin and bondage to unbridled evil and rhetoric. Our hard-earned, sacrificed-for freedom is abused relentlessly with selfishness, greed, and entitlement.
As much as we'd like to say our nation is free, it is not. We are bound tightly by the toehold of sin Satan has planted to divide and conquer. Until we do as Paul suggested, we will never truly be free. And then what have those brave soldiers fought for? What did Christ die for?
Remember freedom means "free from." Start today to break your chains of bondage. Set to flight with the liberty found in Him—freedom in Christ who gave it all for you. Thank our soldiers who sacrificed. Bond together as Christians, as one nation under God, and truly be free.
(Photo courtesy of pixabay.)
(For more devotions, visit Christian Devotions.)
---
---