Be not deceived; God is not mocked: for whatsoever a man soweth, that shall he also reap. Galatians 6:7 KJV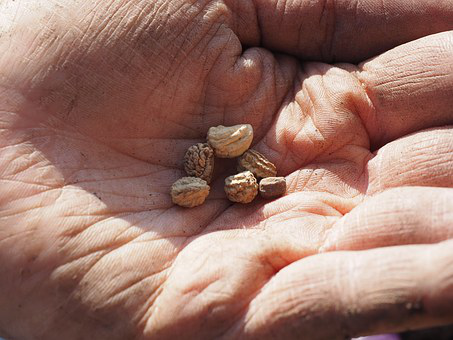 What we sow, we reap.
The concept of sowing and reaping means different things to different people. Preachers teach extensively on the subject. Church members take pages of notes on it. However, gospel truth is gospel truth. Spiritually, if a person plants it, they will harvest it.
Some seeds yield a harvest sooner than others, such as negativity. The world is full of it. Plenty of fertile ground exists in which to grow counterproductive thoughts. Not long after we plant it, we reap a bumper crop of negative thoughts. Negative situations soon follow.
We can also plant anger. Someone wrongs their neighbor, and the neighbor gets angry. The anger becomes a seed planted in a heart which takes root and grows into a powerful grudge. Grudges choke out compassion. Soon, the neighbor reaps a harvest of anger and bitterness that ruins their life.
Believers should sow the good seeds of compassion and faith. When trouble comes our way, we should also step away from the habit of blaming God or others for our problems. We reap what we sow.
Don't blame unpleasant situations on God or others. Instead, be honest about what you planted.
(Photo courtesy of pixabay.)
(For more devotions, visit Christian Devotions.)
---
---