For you know that when your faith is tested, your endurance has a chance to grow. James 1:3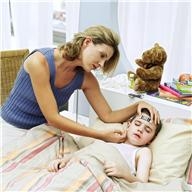 Our hearts sank as the doctor approached us with a perplexed look in his eyes. Suddenly there was the sound of a mighty marching band's percussion section which turned out to be the beating of our hearts. "I am sorry, but your daughter has contracted a rare infection that we are having a hard time identifying."
In the hospital bed lay our limp and lethargic six-year-old daughter with a fever of 105 degrees. Within forty-eight hours we were told she might lose the ability to walk if the infection continued to spread.
Each passing hour seemed like an eternity as we awaited the results of the next set of spinal taps and blood tests. Our family was experiencing the most debilitating anxiety we had ever collectively experienced. For six days we watched and prayed. What we saw with our natural eyes was much different than what we were willing to accept in our hearts. It was extremely difficult to see beyond the helpless face of our daughter. But our faith demanded that we do just that.
I couldn't help but think this situation must certainly be an optical illusion. Surely my child was not ill to the point of losing the ability to walk. There were many times my mind entertained thoughts of defeat. Then I heard the Lord whisper to my heart, "Change your angle. What you see is not actually the way things are. Reposition yourself so that you can see this clearly."
It was at that moment I realized what I was attempting to label as "faith" was battered with negativity. I made the conscious choice to change my view. No longer did I see us as victims traveling the road of despair. I saw my daughter as full of energy and life again as my heart began to fill with thanksgiving.
"Father, thank you that you have found us worthy to navigate this turmoil," I cried. After a six-day stay in the hospital our daughter was completely healed. Her pediatricians were astounded.
The finish line of that faith marathon was crossed. Triumphant faith results in spiritual growth when we successfully endure our testing. God's primary objective for His children is that we endure this life exemplifying great faith. Faith keeps us in expectation of things we believe in our hearts that we may clearly see their manifestation.
When you find yourself in grueling situations, repositioning may be the key to clarity. A proper perspective is the correct combination code to unlock the vault of true reality. Look with a heart overflowing with faith. Believe in God and His ability to deliver you again.
(Photo courtesy of office.microsoft.com.)
( For more devotions visit us at www.christiandevotions.us )
---
---