Watch and pray so that you will not fall into temptation. The spirit is willing, but the flesh is weak. Matthew 26:41 NIV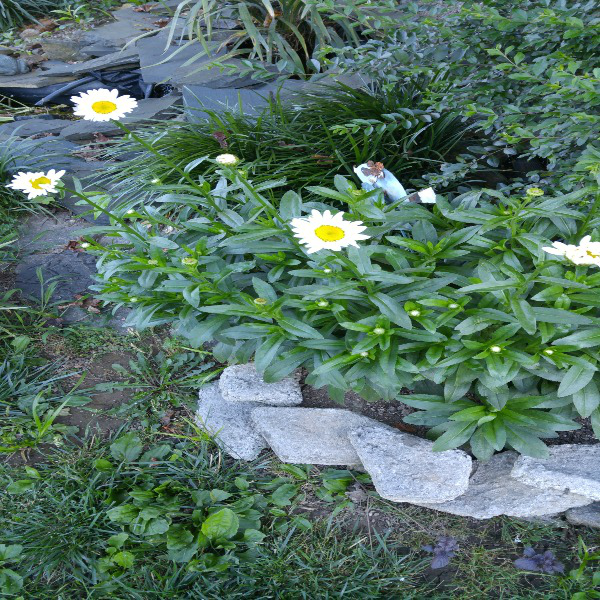 Little drops of sunshine. That's what they are.
I've loved daisies since I was a little girl snuggling inside the giant crevice of an elm tree–my secret place. The place I chose to create imaginary friends and wonderful adventures.
At the base of the big elm grew a pod of beautiful daisies. Keeping bugs away and water near their roots was a chore, but I managed. When they bloomed, I could have sworn the sun glistened off their yellow centers.
I learned to pray hidden away in the big elm. Basically an only child (my brother, twelve years older and grown), I found the friendship of God early on.
"How do I pray? I'm just a kid."
Just talk to Me and watch the daisies. Each day you pray, you'll see them grow. When they bloom, so will your heart.
"My heart will bloom?
You'll be tempted to pick the buds before they bloom. You'll want to take them home and put them in water. But if you are strong and wait, joy will come.
Daily, I cared for the daisies and talked to God. He was right. When I saw the buds emerge, I wanted to pick them. The temptation to pluck the buds was strong. I wanted to take the flowers home, but I heard the whisper in my heart. Wait. Let them bloom.
When Jesus returned to His disciples after praying in Gethsemane, He found them sleeping. All He'd ask them to do was stay awake—watch with Him—but they gave in to the desires of the flesh and slept. He warned them if they would only watch and pray, they would not fall into temptation.
Our intentions are good. We mean to do what's asked by God, but we fail miserably. Temptation wins. I learned a valuable lesson watching the daisies bloom. Watching taught me to pray and wait for His will.
All my prayers haven't been answered the way I'd hoped, and then, there's those times I've fallen into temptation. But for the times I've waited for the daisies to bloom, amazing things have come.
Stand firm in your prayer life even when it's hard. Wait until the daisies bloom. Your reward is strength and joy in Christ.
(Photo courtesy of author.)
(For more devotions, visit Christian Devotions.)
---
---