I will not be mastered by anything. 1 Corinthians 6:12b NIV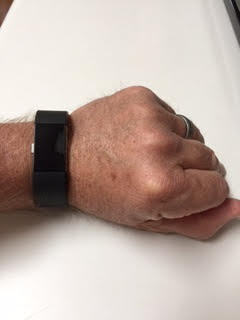 Dosed with excitement because a friend had a Fitbit, I bought one—thrilled to get my 10,000 steps and track my sleep. At first, it served me well. I increased my activity, walked more, went to bed earlier, and hoped for a healthier self.
Quickly, however, this servant became the boss of me. I left family on Thanksgiving to walk alone in the chilly darkness to get my 10,000 steps. I ran in place just to eek out those last 300 steps, missing the mark by just a few as the clock struck midnight. I became obsessed.
Things worsened when I found there was a community I could compete with. I spent my days keeping track of the top person. The day I realized it was no longer serving me, but had become my master, was life-giving. It wasn't about my Fitbit, but my heart. I recalled a quote by John Seymour, "Emotions are excellent servants, but tyrannical masters."
Anger, fear, sadness, and happiness are good servants. Anger allows us to act for justice and right wrongs. Fear warns of impending trouble. Sadness processes our heartache. Happiness invites celebration of blessings. But each is a terrible master. Rage causes harm, anxiety cripples, depression paralyzes, and the pursuit of happiness can destroy.
Most things make wonderful servants, but horrible masters. And I know they aren't limited to emotions or Fitbits. Food, money, shopping, social media, power, medicine, exercise, just to name a few, can do the same.
I am not opposed to my Fitbit. It sits proudly on my wrist and some days still manages to be my boss. The problem doesn't lie in the technology, but in me.
When I sense the "take over," I consider who's my boss. Is the thing or emotion my servant or am I the one in chains? Who is serving whom? My heart quickly reminds me of the great and loving Master who never makes me a slave, but calls me a friend and a daughter.
If something that started as a wonderful servant has become your tyrannical master, talk to God or share your struggle with a trusted friend.
(Photo courtesy of Martin Wiles.)
(For more devotions, visit Christian Devotions.)
---
---