Why, you do not even know what will happen tomorrow. What is your life? You are a mist that appears for a little while and then vanishes. James 4:14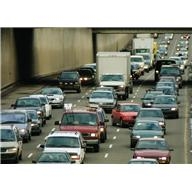 In recent weeks, I've had a couple of close calls or near-death experiences, if you want to call them that. In one incident a friend and I were driving down a local four-lane road when we decided to stop to take a look at a car that was for sale. Just as we passed an intersection, I heard wheels squalling and looked in my rearview mirror to see a car that had run through a stop sign, hit the front of the car behind us, and flipped over just a few feet awau from us. Fortunately, no one was killed.
That incident constantly reminds me death is just a second away from every living soul. I suddenly realized how precious life is and how important it is not to take the blessings in life for granted. I thought about words said that should not have been and of words not said that should have been. Love expressed that never was, lost hugs, and spiritual conversations shared with the brokenhearted that were never spoken.
My dad always said, "Son, today is the first day of the rest of your life." That's a very true statement. We cannot change the past, but we can greatly influence the future.
James reminds us there is no guarantees on our time. Only the Father knows our days. And in His efforts to teach us, He found it important that we understand as quickly as life comes it can pass . . . and the importance of making the most of every minute in service to Christ.
In this crazy world, take time to stop and smell the roses. We never know what tomorrow brings. Cherish God's simple pleasures and love those in your life who need it. You know who they are. Forgive those who need it. Be the person God is pleased with. You never know at what second you will be standing face-to-face with Him. Live life as if each day were you last . . . it very well could be.
(Photo courtesy of office.microsoft.com.)
( For more devotions visit us at www.christiandevotions.us )
---
---