Before I formed you in the womb I knew you, before you were born I set you apart. Jeremiah 1:5 NIV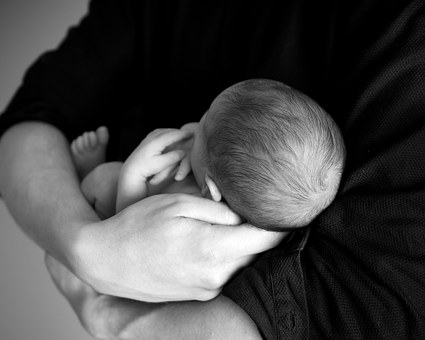 God knew me in my mother's room before I was born.
As a child, I wondered how I could be in my mother's room without her knowing I was there. Until, ta-da, I arrived as my parents' daughter. I remember looking under mom's bed, pushing things aside in her closet, trying to locate the place I was hidden until God delivered me. I never found it. But I did find dust bunnies, a sock without a match, and a rumpled sunhat with a wilted bow. I heard things like, "What are you doing in there?" and "Get out from under that bed!"
After I grew up, I realized the word was womb, not room. The God who created everything knew me before I was a twinkle in my mama's eye. God knew whom I would become throughout my lifetime: daughter, sister, friend, nurse, caregiver. He knew the paths I would walk: valleys, plateaus, mountaintops.
God knew when I would follow His path and when I would decide to travel my own trails, when I'd curl up in His arms and when I'd push Him away because things weren't going my way. He knew when I would stand, when I would fall, when I would crawl on bloodied hands and knees, and when I would lie face down in the dirt and cry. God knew when I would hold my arms up and be ready for Him to rescue me and when I would have fire in my soul to reach out to those who needed to hear of His phenomenal love and gift of eternal life.
God knows us in our mother's wombs before we are born. We will never be a secret to Him. He knows our thoughts before we think them. He meets our needs the way He thinks best. We are intimately known and eternally loved beyond measure by our Father in heaven.
Thank God for loving you just the way you are.
(Photo courtesy of pixabay.)
(For more devotions, visit Christian Devotions.)
---
---