Before they call I will answer; while they are still speaking I will hear. Isaiah 65:24 NIV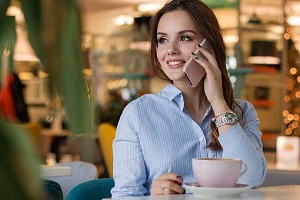 She left a detailed message for someone whom she thought was absent…but who was there all the time.
Years ago, when I worked at a large church, my desk was among those of several other employees. Hearing each other's phone calls wasn't unusual. Usually, I managed to concentrate on my own work and tune them out, but one time a co-worker's call caught my attention because she left such a detailed message for her husband—who was one of our pastors.
My first thought was that she could just walk down the hall and talk to him. Then I realized he might be out, and the message couldn't wait until she saw him at home. But just as I turned back to my computer, I saw him come in and step to her desk.
At first, she continued her call, but as she sensed his presence, she looked up. "Oh, hello!" she said, turning away from her phone. "I was just leaving you a message." Then, she turned back to the phone and said, "Goodbye," and hung up.
This is what happens when I pray but then forget God's constant and ongoing presence. I think I have to fill Him in on all the details of my problem—as if I need to educate the omnipresent and omnipotent Lord of the Universe on my small difficulties.
God is quite familiar with all my problems and their required solutions. He not only hears what I ask for but also knows the answers and has provided them. And all for my benefit and His glory.
Remember, God is always with you and has answers for anything you face.
(Photo courtesy of pixabay.)
(For more devotions, visit Christian Devotions.)
---
---