This is the day that the Lord has made; let us rejoice and be glad in it. Psalm 118:24 ESV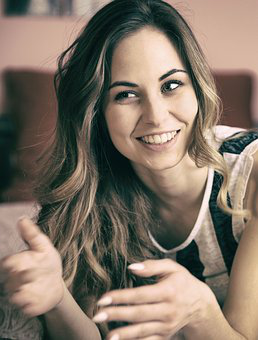 Stepping forward to shake the hand of one of my favorite authors, my heart quivered to think I was actually talking to her.
With clumsy words tumbling from my lips, I knelt beside her chair for a picture. Then, my movements became as awkward as my words. Losing my footing, I grabbed the end table beside me to catch my balance, but the table—including the large plant it held, along with me in my clumsy glory—fell headlong into an empty fireplace. Fortunately, the scene was only witnessed by a few dozen people, the friend who invited me to the event, and Elizabeth Elliot.
That moment met with embarrassment and found me mentally slapping myself for not being able to hold myself together for a few minutes. Yet the story it gave me to tell always brings laughter. And laughter itself is a gift.
Tiny moments of life impact our hearts. An interaction doesn't go the way we hoped, and the spirit we meet it with has the potential to carry us either into a corner where we are left hiding or into a state of brokenness. In my brokenness, I don't deny the way I feel but rather receive my feelings as a gift from God for His purpose and in His timing. And this within the beautiful day He has made.
Many times, I've hidden when such feelings met me, and still God waits for me to boldly show Him my awkward pieces. His comfort always makes me fresh again.
For every instance the Enemy hopes to back us into a corner, God waits for us in the sweet broken place. The day is His and we should rejoice.
Hold your moments loosely, knowing the day belongs to God. In the end, doing so will give you the gift of gladness—maybe even laughter.
(Photo courtesy of pixabay.)
(For more devotions, visit Christian Devotions.)
---
---