Now, this is what the Lord says, "Don't be afraid, because I have saved you. I have called you by name, and you are Mine." Isaiah 43:1 NCV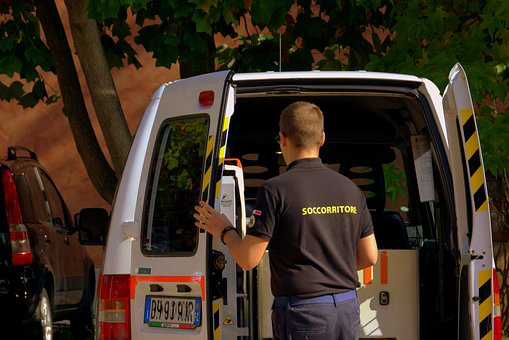 An ambulance's siren pierced the quiet of our rural community.
I later visited with Pete—our newest neighbor—to find out about his father-in-law's condition following the emergency transport. Joe—our rural community's volunteer fire chief—told Pete the EMTs called him as they drove the twelve miles to our community. He told them, "Don't give me an address. Just give me the name." Joe knows every person living in our small area. He led the ambulance driver right to the door of Pete's father-in-law.
I told Peter how Joe's personal knowledge of those living in our farming community had made a difference for my family. A few years ago, Joe pulled up, parked on the crest of our hill, and let his emergency lights illuminate the night sky. Minutes later, the emergency vehicle pulled in to transport my father. What a comfort Joe's appearance on a scary scene was to me.
God knows those who have been saved by the blood of Jesus. Their names are familiar. No emergency arises but what He knows exactly where we are and how to help us. His knowledge about us gives us security during the tumultuous moments in our lives. We have no need to fear.
We have the confidence of God's presence after we become His children—no matter how terrifying or serious the situation. As our volunteer fire chief's arrival brought a sense of support and encouragement, we can be assured the One who rescued us from our sins by His Son's sacrifice will be by our side no matter how dire the condition.
Rest in the fact that God knows your name, where you are, and what you need.
(Photo courtesy of pixabay.)
(For more devotions, visit Christian Devotions.)
---
---