Unless the Lord builds the house, the worker is wasting his time. Psalm 127:1 ERV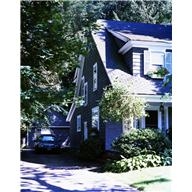 Chairs lined the lawn, white bows decorated the fence, and lush ferns hung from the wraparound porch of the stately house. A beautiful bride and groom held hands and exchanged vows under an arch. I witnessed the story of their marriage during the next year as I passed this house on my daily commute.
The industrious newlyweds planted trees, dug flowerbeds, and painted their porch. Each season the porch sported new decor. For Halloween, paper ghosts replaced the ferns, three-tiered pumpkins guarded the glass door, and painted-on jack-o-lanterns smiled from the windows. In December, wreaths, twinkling white lights, and a Christmas tree decorated the porch. Summertime brought small-scale Great Gatsby parties. Friends leaned over the porch bannister sipping cold drinks while others splashed in the pool.
The next season the house flaunted its usual fall decorations, but by mid-November, the porch took on an even spookier appearance. The paper ghosts swished in the wind. The Halloween pumpkins had rotted, now merely caved-in cavities. The jack-o-lanterns drawn in ghostly-white on each window added to the haunted character of the house. The external facade now hinted at the internal conflicts within the home. The black trash bags and furniture dumped in the yard finished the story—my neighbors had given up.
This made me question my own motives. I, too, had put great stock in building a perfect-looking home. Had I used my resources to create a hallowed home or had I dumped my energy into a facade? My thoughts scared me to the bone.
Have you been haunted by one of Satan's lies—that we can build our lives … our homes, without God? Like a ghost, has Satan snuck into your home and planted lies that will rot away at your family?
The Bible warns us against trying to build a home without God. The psalmist tells us that unless the Lord builds the house, the worker is wasting his time.
The Bible also offers a solution. God will help us sweep up the cobwebs and build a hallowed home. All you have to do is ask Him.
(Photo courtesy of office.microsoft.com.)
(For more devotions, visit us at www.christiandevotions.us.)
---
---