But God remembered Noah and all the wild animals and the livestock that were with him in the ark, and he sent a wind over the earth, and the waters receded. Genesis 8:1 NIV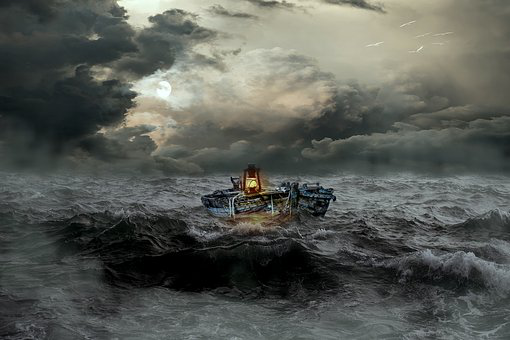 I felt lost in murkiness and could not unearth God. I listened closely to His guidance and followed Him obediently. Yet that path had surprisingly and abruptly come to a halt. I was shocked and numbed. God seemed silent.
Noah must have experienced these sensations as he, his family, and the animals tossed about on titanic waves. With his sea legs, he performed his daily chores in this tipsy box. But where was God? When he was building the ark, God's instructions were frequent and precise. Now, God had been silent for 150 days as the boat rocked on the waters. Where were His gentle instructions, soft whispers, and reassuring comfort?
God was there, observing Noah inside the ark. He had made a covenant with Noah and would keep it. He remembered Noah and relationally gravitated toward him in a loving and tactile way. Not only did God remember Noah, but He also remembered those surrounding Noah: the animals. He saw Noah obediently feeding the animals, caring for his family, and possibly questioning his future after the flood. God acted upon his observance of Noah and the flood and funneled a wind so the floodwaters would dwindle.
God was also present in my mute world at the end of my crisis. He observed me in my day-to-day activities, and—as He remembered Noah—He remembered me. Gradually, His gentle breeze of comfort and peace surrounded me.
When we feel alone and forgotten, God's silence can be deafening. Nevertheless, He is there as He was with Noah. He knows our perplexing circumstances, so He hovers, shelters, and eternally remembers us. In His perfect timing, He will direct a merciful wind to calm and satisfy our needs.
Believe God remembers you, regardless of your storm.
(Photo courtesy of pixabay.)
(For more devotions, visit Christian Devotions.)
---
---