For the Lord hears your grumblings which you grumble against Him. Exodus 16:8 NASB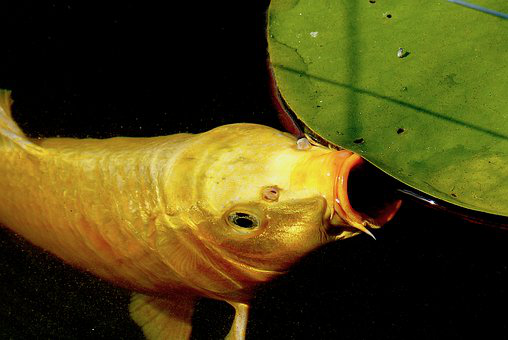 The fish disappeared again.
My husband's youngest son and wife are raising three young boys and a baby daughter. To supplement their income, Kevin nurtures a vegetable garden. He has also developed a hydroponic system of fish tanks which produce run-off water for fertilizer.
One morning, he checked on the fish and found them on the bottom of their tank—bloated, dead, and useless. Discovering a reason for the mishap took a while. His sons, wanting to help their Dad, had taken some bread and fed the fish.
Hearing this part of the fishy tale, I reflected on how often I have tried to help Father God with His business, only to bring trouble upon myself and others. Then I remembered the Israelites as they came out of Egypt and wandered in the desert for forty years. God rained down manna for them to eat, but they were not satisfied. They wanted more—just like the greedy fish.
But the story has a sequel. One morning, Kevin saw only two of the large number of fish he had purchased to replace the lost ones. He knew the boys weren't at fault. He had explained the habits of fish to overeat so the previous disaster wouldn't repeat itself.
Not knowing the mystery of the disappearing fish, he purchased more to supplement the second loss. Later, as he cleaned out the overflow tanks, he discovered the second lot of fish alive. They had squeezed through the connecting pipes and escaped.
Once again, I thought of the Israelites. They wanted to return to Egypt and complained about the way Moses was leading them—just like the fish that escaped the confines of their tank. They crawled through narrow pipes to another world where they could have died without the proper food.
The fishy tale and the Israelites behaviour mirror our own lives. Learning not to complain and accepting what God provides is a lifetime lesson. God knows what He is doing, and He has the best in store for us when we trust and wait upon Him.
Trust God to give you what you need.
(Photo courtesy of pixabay.)
(For more devotions, visit Christian Devotions.)
---
---