Your own ears will hear him. Right behind you a voice will say, "This is the way you should go," whether to the right or to the left." Isaiah 30:21 NLT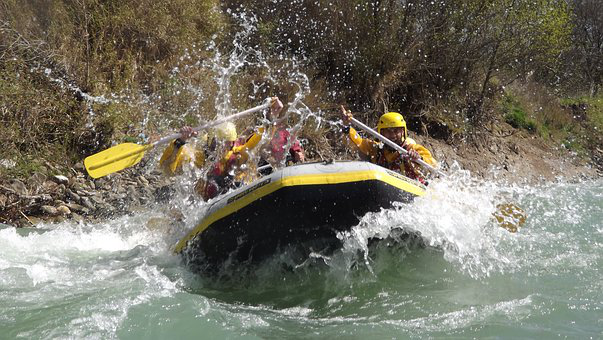 "Three digs, y'all! Big water ahead!"
Our family of seven positioned ourselves in the yellow inflatable raft, paddles in hand. Listening to our guide, Mitch, we practiced paddling in the calm waters near the landing. I was confident we'd spend a beautiful day on the Upper Pigeon River.
But as we approached the first rapids, I wasn't so sure. The twists and turns around the protruding rocks created doubt about our family bonding experience. I prayed for safety and still waters.
Perched in the back, Mitch's voice carried above the raging waves. He spoke boldly and without hesitation. He knew the lay of the land and could read the conditions of the rapids and make choices to steer our craft safely. My confidence in his ability grew, as did my trust.
Four more obstacles loomed in the big water ahead. The swirls of white water rushed across the treacherous rocks. We held our breath and paddled "three hard digs" upon Mitch's command. Again and again, he shouted instructions on when and how to paddle. We knew his voice from our practice.
We laughed as we glided safely past the last rock. By trusting Mitch's knowledge and acting upon his commands, we lifted our paddles together in an overhead "high-five" to celebrate.
In life, rising tides and crashing waves interrupt our calm seas. Seeking God in the still moments equips us to hear Him during life's obstacles. Even when God's voice seems muffled, He communicates through His Word. Our all-knowing Guide always provides direction. We paddle by listening to His voice, obeying His commands, and lifting our high-fives of praise.
God knows what lies ahead and how to navigate your situation. With the Holy Spirit as your Guide, "Your own ears will hear Him. Right behind you a voice will say, 'This is the way you should go,' whether to the right or to the left."
Whether you're facing still or stormy waters, tune in to God's voice.
(Photo courtesy of pixabay.)
(For more devotions, visit Christian Devotions.)
---
---