For by your words you will be acquitted, and by your words you will be condemned. Matthew 12:37 NIV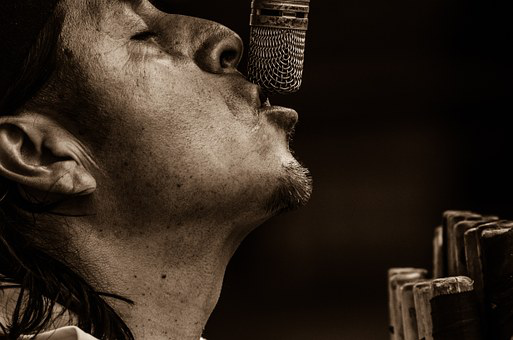 Let Him Say So

In my whole life, I had never heard my dad use profanity—except once.

I was twelve years old, and my family had been camping on the Blue Ridge Parkway at Mount Pisgah. We pulled out, and Dad was in line waiting to get gas at the pumps in front of the little camp store that served the campground. My younger brother, David, was in the front seat between Mom and Dad. I was in the back, sandwiched between my grandparents who had camped with us.

Behind the car, Dad towed our Starcraft pop-up camper. The parking lot on top of 5000-foot Pisgah ridge is constricted where the camp store and gas pumps are. This particular Sunday afternoon in October, it was crowded with leaf-peepers, day-trippers, and people visiting the famous Pisgah Inn Restaurant.

Suddenly, a car to our left backed straight toward us. Dad threw our Ford wagon in gear, but there was nowhere to go. We were hemmed in, and the driver of the other car paid no attention. Dad went to plan B and leaned on the horn. The other car skidded to a halt with only inches to spare from Dad's driver door. Dad rolled his window down and cut loose with a string of profanity I had never heard him utter before, or since. Mom gasped while my grandfather quietly chuckled under his breath.

When I came home from prison to my parents' house—despite my Christian heart—I had a foul mouth. Seven years in that hell of a sewer rubbed off on me in ways I didn't even recognize. I had acquired the gutter language of prison.
It didn't take long in the Christian home of my parents before my cussing sounded wretched in my ears . . . a stink in my nostrils . . . and I made the conscious effort to clean up my speech. My parents never said a word about it; they simply led by example.

We are new spirits as born-again Christians, but this fallen world can rub off on us in ways which we may never notice if we don't constantly wash ourselves in God's Word. Make sure your wedding clothes are ready for the Lord's return and His Great Wedding with His church.

Let Her Say So
Shut . . . up . . . !
Several expletives joined with those two words as I yelled through the vent at a woman in the next cell. I had been alone in solitary confinement for months, with no one occupying the only other cell in my isolated pod. Who was this woman? I wondered.
I didn't grow up with that kind of potty mouth. In fact, certain words were so vulgar they never flowed past my lips. Somewhere in life, that changed. I couldn't see the evil that had taken root in me. The world had become a disappointment, and my situation and other people were to blame. I simply reacted.
The lady next to me had plenty of troubles—mental issues among them. She spoke with multiple (non-existent) people, making it hard for me to maintain my own sanity. Her constant chatter drove me over the edge. Although she only had a $100 bond, no one cared enough to get her out. And I had no compassion.
Jesus taught us that everything that flows from the mouth originates from the heart. Without Christ, hate came from my heart. I was blinded by it. Hate pushed every button in me, from persistent anger to depression.
After becoming a Christian, one of the first things I prayed for was that God would clean up my gutter language. Not many other things changed quickly, but my speech did. I felt God's goodness in me. My words were, and are, an indication of what is in my heart. An evil man has an evil treasure in his heart, and out of it brings forth evil things (Mathew 12:35).
Not many days pass when I don't think about the women I met in prison. I want prople to know what I discovered: words are the spontaneous manifestation of our true character. Real change begins with inviting Jesus Christ into our heart.
If we ask, Jesus will carry us through our troubles and strengthen our resolve against the battles of our flesh. He will stand guard over our tongues so we'll speak words of love and not hate.
Ask God to help you be justified—not condemned—by your words.
(Photo courtesy of pixabay.)
(For more devotions, visit Christian Devotions.)
---
---