Are not two sparrows sold for a penny? Yet not one of them will fall to the ground outside your Father's care. And even the very hairs of your head are all numbered. So don't be afraid; you are worth more than many sparrows. Matthew 10:29-31 NIV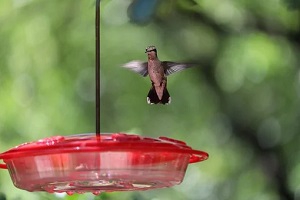 As Hurricane Sally made landfall, hummingbirds at the feeder outside my bedroom window battled the strong winds.
Despite the monster storm slowly rolling onto shore, the hummingbirds demonstrated no worry. I, on the other hand, was not so calm. A seventy-five-foot pine tree grew just outside my bedroom window, and the fierce winds pushed so hard that several neighbors called to warn me of danger. Meteorologists predicted hours of rain, and gales topped 100 miles per hour. Nightfall approached.
I didn't want to be "that story" on the news—the person who dies in their sleep when a tree crashes on their house. As the winds screamed around the corner of the house, I prayed. And I thought of those hummingbirds and Jesus' words as He prepared His disciples to take the good news of the kingdom into a world filled with dangers.
Jesus pointed to His Father's watchful care over a creature without value in His culture to amplify how much God cares for us.
I asked God to send His angels to hold up the tree and bring us safely through the night. As I drifted to sleep, I heard the Spirit whisper, "Remember the hummingbird."
Day dawned, and I thanked God for our safe passage through the night. The storm still raged, but hours later, when Sally had finally passed, the tree had not toppled. The bird feeder had blown over, but as I put it back up and refilled it with fresh nectar, the hummingbirds reappeared and buzzed around my head in gratitude.
When storms come into our life, we can think of the hummingbird. Our heavenly Father values us more than sparrows. He knows how many hairs are on our head, and He will care for all our needs.
Rest in God, and trust that He cares for you.
(Photo courtesy of pixabay.)
(For more devotions, visit Christian Devotions.)
---
---