Forgetting what is behind and straining toward what is ahead, I press on toward the goal to win the prize for which God has called me heavenward in Christ Jesus. Philippians 3:13 NIV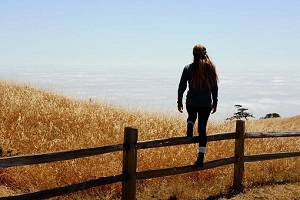 The semi in front of me slowed down.
I also slowed down, all the while glancing in my rearview mirror to check the traffic. I became so involved in watching the road behind me that I failed to realize I was following the truck off the road. The driver had turned into a truck stop. Somewhat embarrassed, I returned to the road.
Sharon had trouble letting go of problems that resulted from her past wrong choices. As she walked one day, struggling with fears and doubts, she glanced down at the sidewalk. Written in bold blue crayon were two words, Trust Jesus. The message made her pause and ponder its meaning. After a while, she continued, but once again, anxiety invaded her thoughts. Then, for the second time, she came upon the same words. She needed this second reminder, and this time she trusted Jesus with her past burdens.
Many times, we become so preoccupied with our past that we refuse to take our thoughts from the things which lay behind: failures, broken relationships, sins committed against us, and sins committed against others.
The apostle Paul had many things in his past which could have held him back in his Christian life. But he confessed those sins and accepted God's forgiveness.
As Paul and Sharon did, we should let go of our troubled pasts and allow God to walk with us daily. He will forgive the sins of our past, but we must accept His forgiveness and move forward.
What is holding you back from advancing in your relationship with Jesus Christ?
(Photo courtesy of pixabay.)
(For more devotions, visit Christian Devotions.)
---
---