My grace is sufficient for thee: for my strength is made perfect in weakness. 2 Corinthians 12:9 KJV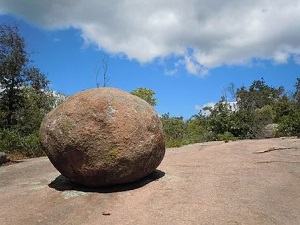 "You'll never move that rock, Mikey. It's too big."
Mikey had grown accustomed to hearing the disparaging remark from his friends. Since moving to their home when he was only three, Mikey hated that rock and wanted his dad to move it to make room for a swing set. His dad told him if he could move it, he would buy him one.
From the age of six until he was eighteen, Mikey tried to move the rock, breaking several sledgehammers in the process. Mikey made the varsity football team in ninth grade and also won four state championships as a wrestler. He had gotten strong, trying to move the rock that stood in the way of the swing set he wanted.
On signing day during his senior year, Mikey signed a scholarship letter of intent for a full ride to one of the most prominent football universities in the south. Later, he asked his dad, "Are you ever going to move that rock?"
"Why should I? Look what it did for you," his dad responded.
"What do you mean?" Mikey asked.
With a grin, his dad explained. "Mikey, since you were six, you've tried to move that rock. You spent countless hours and broke a few hammers along the way. That rock never moved, but it did something for you I never could have. That rock made you strong. You might've hated it, but it made a man out of you. Your hard work, determination, strength, and perseverance all came from that rock. That rock is the reason you're going to college."
Sometimes the things that hinder us the most mold us into what God wants us to be. The trials we go through breed compassion for others, creating a desire to alleviate their suffering. They make us want to encourage others in their struggles. Those things we don't think we'll ever survive are the things that make us who we are.
Keep pounding the rocks in your life.
(Photo courtesy of pixabay.)
(For more devotions, visit Christian Devotions.)
---
---