The true light that gives light to everyone was coming into the world…to all who did receive him, to those who believed in His name, He gave the right to become children of God. John 1:9, 12 NLT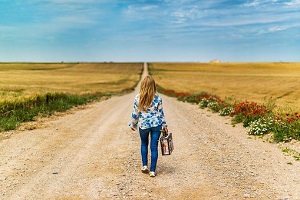 Loneliness tries to surround us though the pain we experience—broken friendships, death of loved ones, unexpected tragedies.
Sometimes we are alone during the holidays, away from family and friends. But no matter where we are, we are not alone. God sees us and invites us into the largest, safest family gathering in all of history.
Consider all the beauty of this earth—the sky, the lights in the heavens, and the magnificent creatures in the ocean depths. We know these were created by a powerful God who values beauty and excellence. He created them for us to enjoy. Every flower, every tree, every beautiful sunset. These are evidences of His love and nearness to us.
John says a Light has entered our dark world. That Light is Jesus. He created us and knows everything about us. He wants us to trust Him. If we trust in Him, God declares Himself as our Father. Jesus becomes our big brother, and we become part of a large family of believers.
When Jesus died, He took all of our sin and pain on Himself, destroying it on the cross and setting us free. So before we let negative thoughts gain traction in our minds—thoughts from the deceiver and accuser who wants to bring us down—we can turn to our loving Father. We can ask Him to free us from doubts and fears. Through it all, God promises to be near us, giving us peace and community through His indwelling Spirit.
Take up God's invitation to join His family by asking His forgiveness. Then, rest in His peace.
(Photo courtesy of pixabay.)
(For more devotions, visit Christian Devotions.)
---
---