Be on your guard. 1 Corinthians 16:13a NIV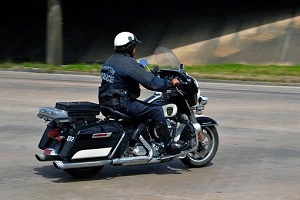 My spirits soared as I cruised down the interstate on a long-anticipated weekend trip.
The year 2020 had been difficult, and I needed a break. Singing along to a CD of my favorite hymns, I relaxed and let my mind wander as I drove.
Life was good—at least until I glanced in my rearview mirror. My heart sank as blue lights flashed atop a patrol car, rapidly approaching from behind. Pulling over, I realized I was now a lawbreaker…a speeder. I had not intentionally broken the law; I was simply daydreaming and not paying attention while driving. Intentional or not, the result was the same: a hefty ticket.
Traveling the road of the Christian life often brings similar results. While there are no posted speed limits, the Bible does give expected standards for behavior. Distracted by our daily lives, we sometimes fail to pay attention to God's laws. We do not set out to sin, but somehow we do. Inattention causes our downfall. Sin is sin whether inadvertent or intentional.
Paul instructed the Corinthian believers to be on their guard. Christians today would do well to heed his directions also. But when should we be on guard? Paul did not limit his instruction to a specific time or activity.
We must carefully observe God's standards all the time. Without paying constant attention, we run the risk of committing sin. And the consequences of sin are far worse than receiving a speeding ticket.
Ask God to help you stay on guard.
(Photo courtesy of pixabay.)
(For more devotions, visit Christian Devotions.)
---
---