Set a guard O Lord, over my mouth; keep watch over the door of my lips. Psalm 141:3 NASB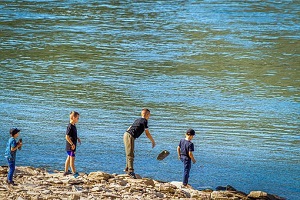 On a sunny afternoon, I sat in my beach chair, enjoying the activity of a flock of seagulls that lined the water's edge.
A young man, his wife, and their young son walked across the sand. The father picked up a rock and threw it at an unsuspecting seagull that stood in the water. The gull went down instantly, flapping and struggling. The woman looked shocked, while the man laughed nervously, glancing around to see if anyone was watching. He took the little boy's hand, and the family moved on down the beach. The gull was helpless and unable to move.
I don't believe this man really meant to hurt the bird. I think he threw the rock to show his son how the gull would fly if startled. But his thoughtless action caused pain and injury.
When I was a young mother, an acquaintance became the talk of the town. I joined in the gossip, condemning her lifestyle. Words cannot describe the devastation I felt when I learned she had taken her life. I was ashamed of the role I had played in judging her instead of reaching out to help her.
Gossip is like that rock the man threw. We throw stones and hurt people. We may not mean to harm, but our words can leave someone helpless and hurt. Some try to justify gossip by stating that they are just being truthful and honest. I did. Because we each had sons who were two years old, I justified offering my opinion about how a mother should act.
Paul admonishes us not to let unwholesome talk come out of our mouths. We are to use only words that are helpful for building others up according to their needs and that benefit those who listen.
We may think we're not throwing stones, but our words can be destructive weapons. How will you use the "stones" of your words? To build up or to take down?
(Photo courtesy of pixabay.)
(For more devotions, visit Christian Devotions.)
---
---