But the Lord God called to the man, "Where are you?" Genesis 3:9 NIV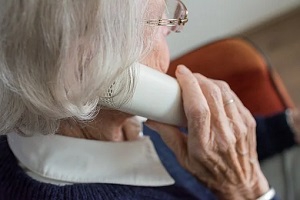 Alexander Bell was one of the primary inventors of the telephone.
On March 10, 1876, Bell's hard work paid off, culminating in the first successful telephone call. One hundred and twenty-six years later, a communication business started an advertising campaign with Paul Marcarelli, known as the "Test Man," speaking into a cell phone the iconic words, "Can you hear me now?"
God was the first to call out to people. Adam and Eve disobeyed His commandment and instead ate from the Tree of the Knowledge of Good and Evil. When they attempted to cover up their disobedience, God showed up and asked where they were. This was akin to Him asking, "Can you hear Me now?" Adam told God he had hidden because he was afraid.
There was a time in my life when I spent a lot of time hiding. Instead of answering God's call to enter the ministry, I joined the United States Air Force and was deployed to Okinawa, Japan. I was sure God wouldn't find me there, nor would He call on me. As I reflect on this incident, I realize how silly I was to believe that. The barracks that symbolized my "fig leaf" were in plain sight to God.
God called me out of hiding. Two young men had somehow gotten locked out of the barracks. As soon as I opened the door, they asked if I knew Jesus. That was the moment I realized my fig-leaf barracks could never conceal me from God's calling. Shortly after, I entered the ministry. I will never regret answering God's call. It's been scary at times, but it's also been fulfilling.
If we're hiding from God, He invites us to come back. He already knows our hiding place, and He still wants to deliver us. He is full of mercy and ready to guide us into His best plan for our lives.
When God asks, "Can you hear me?" ask God to help you respond with, "Yes, Lord, I hear You, and I am willing to obey Your call."
(Photo courtesy of pixabay.)
(For more devotions, visit Christian Devotions.)
---
---