Therefore encourage one another and build one another up, just as you are doing. 1 Thessalonians 5:11 ESV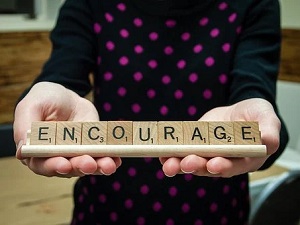 "You did a great job with your presentation."
"How beautiful your house is, all decorated for Christmas."
"Wow! Dinner is delicious. You're a great cook."
"Thank you so much for your visit. It brightened my day."
We all love to feel appreciated by others. Kind words encourage us and can make our day. We walk away with a spring in our step and a smile on our face. We have been affirmed. When someone speaks words of affirmation to me, my spirit is lifted and, because of this, I look for opportunities to affirm and encourage others.
God gives us a mandate to encourage one another. The Greek word for encourage is parakaleo, and it appears more than 100 times in the New Testament. Speaking kind words to others can lift their spirits, and we can find different ways to be an encourager? I've listed a few below:
Smile and speak to the person behind you in the grocery line.
In heavy traffic, let a car merge in front of you.
Sit with a visitor in church.
Take a hand-picked bouquet to a family member or friend who is going through a difficult time.
Send cards. Better yet, send a handwritten note.
Volunteer in a food bank.
Smile at those you meet on the street or in a hallway.
One of the greatest encouragers in the New Testament was Paul. A part of his ministry entailed writing letters to churches, many times while he was in prison, so he could encourage believers in their walk with the Lord.
Likewise, encouragement is necessary to our faith-walk. When we encourage others, we give hope. This helps them through times of conflict or illness. Encouragement nurtures kindness. Even in church, we find those who desperately need to be encouraged. We may need encouragement ourselves.
Set a goal to encourage at least one person daily. Your act of kindness may change their life for eternity.
(Photo courtesy of pixabay.)
(For more devotions, visit Christian Devotions.)
---
---