Do not look at his appearance or on the height...For the Lord doesn't see things the way you see them. People judge by outward appearance, but the Lord looks on the heart. 1 Samuel 16:17 NLT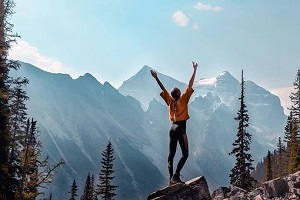 I watch in silent horror as the glass slips through my greasy fingers and plummets to the tile floor.
All awareness ceases for a second, although the crashing awakens me. Not only my mother's glass dish, carrying the recipe and expensive ingredients I perfected for weeks, but also my failure. Shards of glass and meatloaf sprawl all over the floor, the refrigerator, the trashcan, me, and somehow even my hair.
Why is it I can't seem to do anything, right? I am ugly. I am dumb. I am a failure.
Whether this scene is familiar or not, we all have days (sometimes weeks or months) where our shortcomings seem magnified. Maybe we compare ourselves to the neighbor with a fancy car or sleek figure. Maybe we try to appease our parents or the world. Or maybe we are our own worst enemy, as it is with me. Regardless of the motive, we all have scripts in our mind. But we can change the narrative.
Samuel went to the house of Jesse to figure out who the anointed king would be but learned an important lesson about looking at people through God's eyes.
Rather than an outcast, God says I am chosen. I am not too dirty or unworthy. God says I am holy. I am loved—but not contingent upon any standards. The world says I am ugly, but God says I am beautiful, fearfully and wonderfully made. Science and people say I am an accident, but God has a purpose for me. I am not too broken. I am God's masterpiece.
Rather than a shifting foundation based on the dollar amount in the bank or numbers on the scale—or even people who mean well, yet are still sinners—God is the same. Yesterday, today, and forever.
Life would be different if we thought and saw ourselves and the world the way God sees. It won't happen overnight, although it's time to silence the Enemy and open the first page of the story He's writing. The story of our lives.
Let God help you see yourself through His eyes.
(Photo courtesy of pixabay.)
(For more devotions, visit Christian Devotions.)
---
---