Trust in the Lord with all your heart and lean not on your own understanding; in all your ways submit to him, and he will make your paths straight. Proverbs 3:5-6 NIV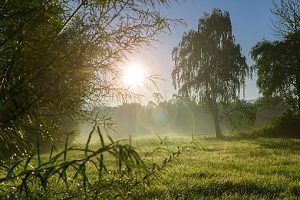 The weeds were almost as tall as my mower.
It had only been three weeks since I mowed the path. Although I knew a trail existed, it seemed as if I were starting over. I raised the deck on the mower, engaged the blades, and got to work. Often, I had to slow down to make sure I was mowing in the right place. The weeds were so thick, and the way was often questionable. Thankfully, I remembered the way.
The weeds of life often grow quickly like that, covering well-worn paths and familiar roads. Many times during the chaos of this year, I felt lost. Even though I knew my way, I couldn't see the path. I remember the meme on social media that said, "What you don't change, you choose." I chose to allow the weeds to grow for three weeks before I mowed the grass. In the same way, I choose the weeds in front of me when I choose to trust myself instead of God.
When we don't change our routine to include exercise, we choose to remain unhealthy. When we don't change our eating habits, we choose to gain weight. When we don't read the instructions, we choose to make a mistake. When we don't stop a habit, we choose an addiction. And when we make excuses for where we are in life, we choose to remain stuck.
The weeds may cover the path, but God can help us remember the way. Why not change whom you trust, stop leaning on your own understanding, and let God lead you through.
(Photo courtesy of pixabay.)
(For more devotions, visit Christian Devotions.)
---
---