Now may the God of peace, who through the blood of the eternal covenant brought back from the dead our Lord Jesus, that great Shepherd of the sheep, equip you with everything good for doing his will, and may he work in us what is pleasing to him, through Jesus Christ, to whom be glory forever and ever. Hebrews 13:20-21 NIV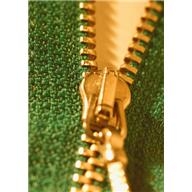 "Come with me right now!"
She grabbed me by the hand and we ran down the hallway. Where were we going? Was I in some kind of trouble? Was she? Lynn seemed pretty desperate for me to follow, no questions asked, so I followed. She was my best friend and she needed me. That's all I knew and all I needed to know. We ran directly to the home ec room. Once securely inside, she shut the door, hurried behind a partition and dropped her pants.
"What the heck are you doing?" I asked.
She tossed her pants at me from behind the makeshift wall and desperately replied, "My zipper broke. Go into that big drawer full of zippers, find one that will fit and fix my pants. Please."
This was going to be a challenge. I'd never replaced a zipper in a pair of jeans in my life. We'd taken two years of home ec together, but I excelled in cooking. She was the better seamstress. And the next class period was a mere twenty-five minutes away. But there was a job to be done, so I geared myself up to give it my best shot. She gave me words of encouragement from behind the screen and talked me through a few of the tricky spots.
Twenty-six minutes later, she wiggled back into her jeans and we ran to our next class. My handiwork may not have been absolute perfection, but her pants and dignity were both now intact. Although I had little confidence in my ability to master a six-inch zipper and some rather thick denim, Lynn knew I could do it.
I may not have been qualified for the job, but I was willing. I was called to do something and was able to do it with the help of the one who took me by the hand and lead me where I needed to go to do the work. My friend gave me confidence and direction, not to achieve perfection, but to be effective.
Doesn't this sound like the loving support we get from our Lord when He calls us to do something for Him? When you are willing to trust Him and run toward the task, no questions asked, He will give you what you need to complete the job. Let Him lead you to your next mission today.
(Photo courtesy of office.microsoft.com.)
(For more devotions, visit www.christiandevotions.us.)
---
---