You are the light of the world. A city set on a hill cannot be hidden. Nor do people light a lamp and put it under a basket, but on a stand, and it gives light to all in the house. Matthew 5:14-15 ESV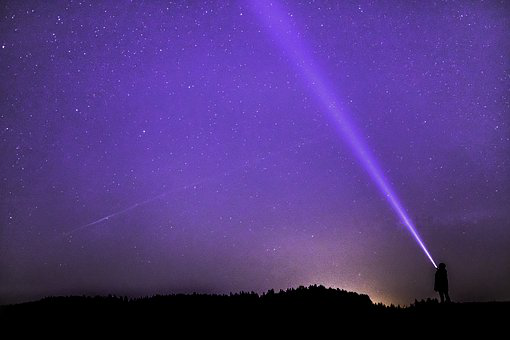 On autopilot, I followed the coffee aroma into the dark kitchen.
My foggy brain screeched to a halt, along with my feet. Why was light glowing around the closed doors under the sink? Had a tiny alien spacecraft invaded our cabinet? I eased a door open and blinked when the light flooded out. No aliens. But there sat our big flashlight, hard at work.
One cup of coffee later, the mystery's answer dawned. The afternoon before, my husband fixed something under the sink. As a reminder to check it after dinner, he left the flashlight on and the cabinet doors open. I'd forgotten his plan and shut them. In the brightly-lit kitchen, neither of us gave it another thought.
When I chuckled that afternoon about the mystery light, Jesus' words from Matthew came to mind. Maybe I hadn't hidden a light under a bushel, but I'd definitely hidden that flashlight under the sink.
No harm done. But what about my spiritual light? Believers are called to be the light of the world wherever we are, yet we can hide that light behind the closed doors of me-first. Most of us would disclaim a me-first attitude. After all, God's light does spill out around our life's edges. All too often though, I'm too busy, stressed, or tired to open wide my doors.
This week, wherever you go, find a way to apply the rest of Jesus' lesson: "In the same way, let your light shine before others, so that they may see your good works and give glory to your Father who is in heaven" (Matthew 5:16 ESV).
(Photo courtesy of pixabay.)
(For more devotions, visit Christian Devotions.)
---
---